Upcoming Classes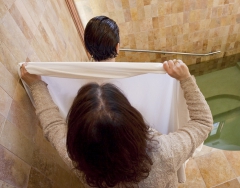 Mikveh Guide Training
Thursdays, December 3, 10, 17, January 7, 14, 21, 28, 6:00-8:30pm
Mayyim Hayyim trains Mikveh Guides to help make immersees' experiences as meaningful as possible. Applications are now being accepted for the winter 2015-16 Mikveh Guide training program. Learn more about the training program at the link or attend an information session on Wednesday, October 14 at 6:00pm (more>>).
---
Welcome to Our October Blog Series: From Rachel Hillman, Guest Editor
October is Breast Cancer Awareness Month, a month where the media highlights breast cancer, research for treatment and, one day, a cure. During October, many women and men share their stories about how breast cancer impacted them or their family. Last year, after being diagnosed with breast cancer at 28, I marked the end of my treatment by immersing in the mikveh, an experience that I shared on Mayyim Hayyim's blog last year. With the Jewish High Holiday season ending this week, I spent much time thinking about how my Jewish identity and my identity as a cancer survivor intertwine. The opportunity to guest edit the Mayyim Hayyim blog at this time feels like the perfect opportunity to explore this combined identity.
Join us each week this month for posts about breast cancer, Jewish life, and Jewish identity.